Kieran Crump Raiswell random stab murder: Man convicted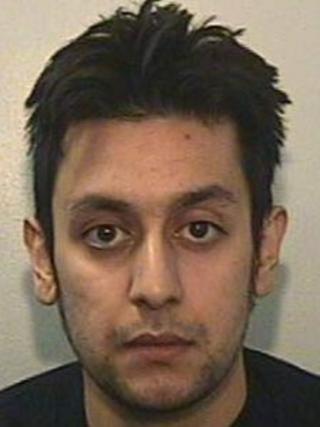 A man has been convicted of murdering a teenager in a random knife attack in a Manchester street.
Kieran Crump Raiswell, 18, from Chorlton, was stabbed four times in Whalley Range on 16 January.
Imran Akhtar Hussain, 27, of Tilehurst Lane, Bracknell, Berkshire, had denied murder but admitted manslaughter on the grounds of diminished responsibility.
A jury at Manchester Crown Court dismissed his claims that voices in his head told him to kill.
He will be sentenced on Friday.
Killer 'sniggered'
Mr Raiswell, who was on a gap year ahead of studying history at Sheffield Hallam University, was attacked without warning by Hussain who stabbed him repeatedly in the chest before running off.
Witnesses reported the killer "sniggered" as he fled.
His mother Christine Raiswell said: "It is so completely senseless. People have said things like he was in the wrong place at the wrong time, but he wasn't.
"He was just walking along enjoying himself and somebody has attacked him. He did not have a chance to do anything."
His family is planning a series of events in the first weekend of September to raise money for 42nd Street, a Manchester-based charity which supports young people under stress.
The killing was the second of two street assaults committed by Hussain on strangers within 12 days in January.
Hussain drove from his student flat in Coventry on 4 January and punched a man in the face in Nottingham before running off.
Charlotte Rimmer, district crown prosecutor at CPS North West, said Hussain had refused to accept full responsibility for his actions, "instead choosing to hide behind the defence of manslaughter by reason of diminished responsibility."
She added: "The jury has rejected his version of events and accepted the prosecution's case that Imran Hussain was in fact fully in control of his actions when he travelled to Manchester and stabbed Kieran to death in full view of passing members of the public."
Alistair Webster QC, defending, said the Crown had not called any evidence to dispute the view of several psychiatrists that Hussain, who is being treated at maximum-security Broadmoor Hospital, is currently mentally ill.
An Independent Police Complaints Commission into Nottinghamshire Police's response to the earlier assault was launched earlier this year and is ongoing.