Linzi Ashton murder: IPCC to investigate Salford mum's death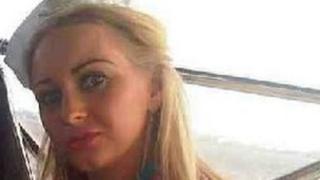 The murder of a mother who had reported a "serious sexual assault" by her former partner to police is to be investigated by the police watchdog.
Linzi Ashton, 25, was found dead in Westbourne Road, Winton, Salford on 29 June. She had multiple injuries.
Greater Manchester Police (GMP) said she alleged her ex-partner Michael Cope, 28, raped and assaulted her in April and assaulted her again in May.
Mr Cope is being sought by police over Ms Ashton's death.
The force has increased a reward for information leading to his arrest from £5,000 to £25,000 as they believe he could be armed.
Clare's Law
Greater Manchester Police referred the case to the IPCC.
The IPCC has now confirmed it will examine the contact GMP had with the mother-of-two in the months leading up to her death to determine whether police action was appropriate and if policies and national guidelines were adhered to.
The police watchdog said it has already been in communication with Ms Ashton's mother about the investigation.
GMP said Ms Ashton and Mr Cope were out together on the Friday night and in the early hours of Saturday morning before she died.
The force believes Mr Cope could be sleeping rough near the Bridgewater Canal.
He was last seen on the day of Ms Ashton's death close to the Moorings pub on Booth's Hall Way in Boothstown.
GMP has previously faced criticism for its failure to protect victims of domestic violence.
In the case of Clare Wood, who made several complaints to police before she was strangled and burnt by a violent and obsessive ex-boyfriend in Salford in 2009, the IPCC concluded there had been "individual and systemic" failures by the force.
It led to the inception of the Domestic Violence Disclosure Scheme (DVDS), nicknamed Clare's Law after Ms Wood, which gives people the right to ask police if their partner has a history of domestic violence.
The force is currently involved in a year-long trial of the scheme, which is due to conclude in September.