Linzi Ashton murder: Community pays tribute to 'chirpy' mother-of-two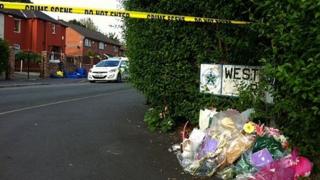 Westbourne Road in Salford remains cordoned off at both ends by yellow tape and police vans.
Outside the house where Linzi Ashton's body was found on Saturday, a pile of boxes sit against the garden wall as forensic officers continue to work inside.
Under the street sign and just outside the cordon, a dozen bunches of flowers have been laid.
People have been bringing their tributes ever since they heard about Linzi's death.
There are carnations and roses, teddy bears and angels, with cards bearing messages, some simply saying 'RIP Linzi'.
Others bear longer, more poignant messages.
"Linzi, trying to find the right words. There are no words to describe this feeling and no words amazing enough to describe you.
"I already miss your smile, your giggle, your happy-go-lucky laugh - you'll always be missed."
'Very bubbly'
At the Duke of York pub where Linzi worked in Eccles town centre, even more flowers have been left.
One woman laying a bouquet said the 25-year-old had been "very bubbly and like a little Barbie doll".
"She was so nice and friendly - it's just so sad."
Inside, regulars at the pub spoke of their disbelief at what had happened and the police statement that she had been "brutally murdered".
They also spoke warmly of the former barmaid, with one describing her as "chirpy behind the bar and chirpy when she was out".
Another said she was "always helpful" and known for her love of fashion.
"The first thing I used to notice was her shoes. Once you saw her shoes, you saw Linzi."
There is no doubt that the mother-of-two will be missed by the community that knew her and loved her.