Linzi Ashton murder: Police told of sex assault in April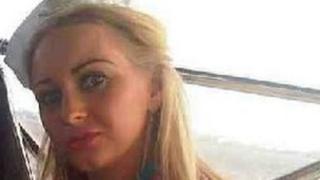 A mother-of-two who was found "brutally murdered" at her Salford home had reported a "serious sexual offence" by her former partner to police.
Linzi Ashton, 25, was found dead in Westbourne Road, Winton on Saturday. Tests showed she died of pressure to the neck and multiple injuries.
Police said she reported Michael Cope, 28, attacked her in April.
A spokesman said he was wanted over her death and police would prosecute anyone helping him evade arrest.
Ms Ashton, who had daughters aged seven and two, also made a separate allegation of assault against Mr Cope in May.
A police spokesman said it had been "established that Linzi and Michael were out together on Friday night and in the early hours of Saturday morning".
Det Ch Supt Darren Shenton said Ms Ashton had been "brutally murdered" and that she had visible injuries to her head and face.
He said that he believed Mr Cope, who was described as "dangerous and unstable", was in Salford and police would take a "particularly dim view of anyone who provides assistance" to him.
'Enhanced scrutiny'
A tribute from Ms Ashton's family said: "She was the most beautiful, generous, caring person anyone could ever wish to meet. She would never harm anyone and was always there for her children and family.
"When she walked into a room it would light up with her energy and love."
The Greater Manchester force has referred the case to the Independent Police Complaints Commission because of the reports it received about the couple.
Assistant Chief Constable Terry Sweeney said the force would "rightly come under enhanced scrutiny" because of the reports.
The force has previously faced criticism for its failure to protect victims of domestic violence.
In the case of Clare Wood, who made several complaints to police before she was strangled and burnt by a violent and obsessive ex-boyfriend in Salford in 2009, the IPCC concluded there had been "individual and systemic" failures by the force.
Her death led to the inception of the Domestic Violence Disclosure Scheme (DVDS), a scheme nicknamed Clare's Law after Ms Wood, which gives people the right to ask police if their partner has a history of domestic violence.
The force is currently involved in a year-long trial of the scheme, which is due to conclude in September.
GMP revealed last week that it had so far received 90 applications for information from people or agencies and it had made 53 disclosures.