Oldham cable theft attempt disrupts TV for 2.5m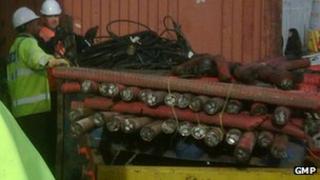 Thieves trying to steal metal cable under a Greater Manchester street disrupted television services to 2.5m addresses, police have said.
The attempt was made after a manhole was forced open on Manchester Road in Oldham, on Wednesday night.
A spokesman said those responsible climbed down into a "complex cable system" and cut lines, but could not gather them and "left empty-handed".
Engineers restored TV services within an hour of the damage being discovered.
The police spokesman added broadband and telephone services, which were also affected, had been restored within hours by the BT team.
Supt Craig Thompson said Greater Manchester Police had been working with the telecommunications company for "some time and when the alarm was raised, our BT colleagues immediately put in place their full-scale response".
"We are appealing for any witnesses who may have information to call us and assist our investigation," he added.