AstraZeneca and Cheshire East Council consider Alderley Park options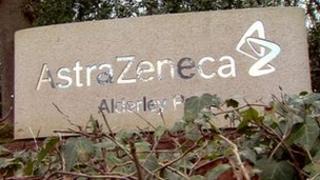 A drugs making firm set to move most of its workers out of a site in Cheshire is looking for other companies to locate to the plant.
Anglo-Swedish pharmaceutical giant AstraZeneca said in March it would move its research and development unit from Alderley Park to Cambridge in 2016.
About 700 of the 2,900 existing staff will remain at the site in Cheshire.
The firm and Cheshire East Council have said they are looking at ways to secure the future of the plant.
The majority of AstraZeneca's 2,900 Alderley Park staff will be relocated to Cambridge or to its nearby Macclesfield plant, though there will be some job losses.
'Continued presence'
The council said it would be "talking to everybody and anybody" and an AstraZeneca spokesman said the company would be "reaching out to partners and stakeholders over the coming months to consider the range of options for the future of the site beyond 2016.
"As far as possible, our aim is to make use of the existing bioscience expertise, facilities and supply chain," he said.
He said the company planned to have a "continued presence on the site beyond 2016" and hoped it could work with "existing and future tenants to assure its future as a centre for life sciences".
Cheshire East Council leader Michael Jones said the plan was to "soft market everything, [which] means talking to everybody and anybody".
"It there's a Chinese investor out there who wants to build a biotech pharmaceutical centre in Europe, they can come and do it here," he said.
He said he was certain that investors were "out there" and that the council was in talks with a variety of prospective new tenants for the site.