Manchester Airport opens £20m control tower on 75th anniversary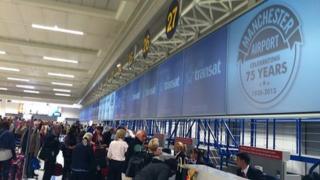 Manchester Airport has celebrated its 75th anniversary with the opening of a new £20m control tower.
The 60m (200ft) building replaces the existing tower, which has served the airport for about 40 years.
Chief operating officer Andrew Cowan said it would "give us better visibility of the whole runway".
Celebrations also included the airport's choir, which took part in the BBC's Sing While You Work, greeting passengers in the arrivals lounge.
The new tower is the latest in a long line of improvements and expansion to the airport since it opened on 25 June 1938.
'Sheep and cows'
Stephen Sefton, the airport's front of house facilities manager, is the longest serving member of staff.
He has worked at the airport for 39 years, having joined as a clerk straight from school, and said the airport had changed a lot in the past four decades.
"Basically, anything north and west of the airport was just sheep and cows when I started," he said.
That changed with the opening of a second international terminal in 1993, with a third created in 1998, when the domestic flight terminal built in 1989 was redesignated.
A major freight terminal was built at the airport in 1986 and a second runway opened in 2001.
The airport now handles about 22 million passengers ever year, vastly more than the 7,600 who used it in its first 14 months of opening, and around 19,000 people are employed across its site.
The airport is run by the Manchester Airport Group, which also controls operations at East Midlands, London Stansted and Bournemouth airports.