Manchester Airport runway closes after Thomas Cook plane aborts take-off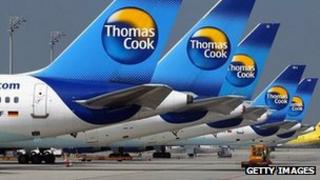 A runway at Manchester Airport was closed after an aircraft developed an engine problem on take-off.
The aborted take-off of the Thomas Cook plane, which happened at about 12:45 BST, saw the airport's first runway closed for 30 minutes.
The plane, which was due to take 325 passengers to the Dominican Republic, was returned to its stand for checks.
An airline spokesman said the fault was detected "prior to the aircraft being airborne" and no-one was "at risk".
He said the airport's emergency services had been called to the aircraft "as a precaution".
He added the airline would be working hard to ensure those on board the plane "begin their holiday as soon as possible".
The airport's second runway remained open throughout the incident.