'Clare's Law': Domestic violence warnings given to women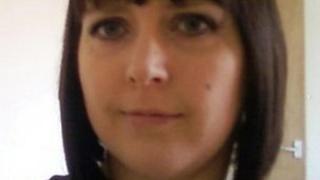 More than 50 women in Greater Manchester have been given information about their partners to see if they are at risk of domestic violence.
The Greater Manchester, Wiltshire, Nottinghamshire and Gwent police forces are involved in the year-long pilot scheme, which will end in September.
The Domestic Violence Disclosure Scheme (DVDS) is nicknamed Clare's Law, after Clare Wood from Salford.
She was murdered by her ex-boyfriend George Appleton in February 2009.
Ms Wood had complained several times to police about him before her death.
'Preventative measure'
The mother-of-one had met Appleton on Facebook, unaware of his history of violence against women including repeated harassment, threats and the knifepoint kidnapping of another ex-girlfriend.
Greater Manchester Police (GMP) said 65 people had applied for a disclosure about a boyfriend or an individual who was in a relationship with someone they knew.
A further 25 applications were submitted by agencies where it was felt someone might be at risk.
Of these, police granted 53 disclosures, while in other cases the partner did not have a record of violent offences or there was no information that a risk was present.
Det Supt Phil Owen said the scheme was "a preventative measure" and enabled "potential victims to take control of their life and make an informed decision about whether to stay with somebody or not".
Tony Lloyd, Police and Crime Commissioner for Greater Manchester, said: "We need to continue raising awareness of the scheme and work together to rid society of this terrible crime which has untold, long-lasting effects on victims".