Drummer Lee Rigby gathering held in soldier's Middleton hometown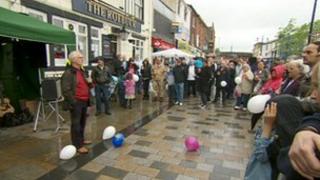 A gathering hailed as a "stance against extremism" has taken place in the hometown of killed soldier Drummer Lee Rigby.
About 150 people took part in the Stand Strong event in Middleton for Drummer Rigby, who was killed near his Army barracks in Woolwich, south-east London, in May.
The event was one of many being held nationwide.
A two-minute silence was held in his memory.
Balloons were released at Middleton Gardens, close to a large poster of Drummer Rigby.
'Enough is enough'
Organiser Kay Walsh said the event was "a united front against extremism, terrorism and racism of any kind".
She said: "It isn't just about Lee, but we are going to pay our respects to him today as he is a local lad."
Graham Foulkes, whose son David died in the 7/7 attacks in London in 2005, spoke at the event.
He said: "This hasn't come from any government initiative, this is just ordinary people just saying enough is enough.
"Let's send out a clear message to these evil people - they cannot win."