Report slams recycling scheme's 'serious failures'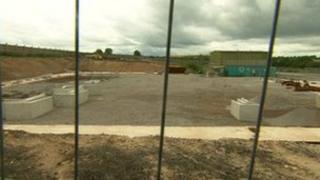 "Serious failures" by council officers led to the abandonment of work to build a recycling centre at a cost of more than £700,000, an inquiry found.
Cheshire East Council started work in Lyme Green without planning permission or public consultation due to poor management, an independent report said.
The inquiry found officers ignored the budget and broke rules to stick to a "completely unrealistic" timetable.
The council said it has recouped some costs and learned lessons.
A summary of the confidential report in to the affair, which led to the resignations of seven staff members, has been released.
'Lack of care'
It shows councillors and finance officers were not informed as the project's estimated cost spiralled from £650,000 to £1.5m.
It found there was a "serious failure of project management by some of the senior staff involved" and a "lack of due professional diligence and care".
Relationships were strained, different departments failed to work together and there was a "culture of mutual mistrust" between some officers and some councillors.
The investigator concluded there was no deliberate intention to mislead, but added it was understandable that some members of the public and councillors felt otherwise.
Resident Peter Yates, who raised concerns over the works, said: "Quite clearly in order to meet that deadline people had to sidestep a lot of the rules and regulations."
'Painful experience'
The report concludes officers failed to comply with regulations when awarding contracts for the work which started in October last year.
It recommends the council's procurement team and legal officers ensure they are up to date with the law as the case demonstrated a "lack of basic understanding".
Despite this, some council officers were praised for trying to raise concerns over the project and urging colleagues not to go ahead without planning permission.
Council leader Michael Jones said the council has since changed systems and an agreement has now been reached in principal with local furniture retailer Arighi Bianchi to build a warehouse on the site.
He added: "Despite its unwelcome impact on the council's reputation, this painful experience has left a positive legacy."