'Dale Cregan placed a grenade on my mantelpiece'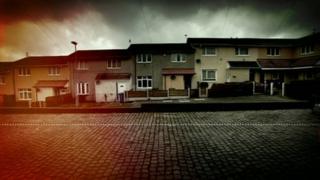 "I went downstairs and opened the door. Standing there was Dale Cregan".
On 17 September last year, about 22:30 BST, Alan Whitwell unexpectedly found Britain's most wanted man outside his home at Abbey Gardens in Mottram, Greater Manchester.
The following day, PCs Fiona Bone and Nicola Hughes from Greater Manchester Police were shot dead by Cregan on his doorstep.
Speaking to The Sun newspaper, Mr Whitwell described the moment the two unarmed police officers were lured to the house by Cregan with a bogus 999 call.
He said: "We had no idea Cregan rang the police - I was brushing my teeth and halfway upstairs, and he comes walking through the hall and I could see the gun in his hand.
"He turned to me and mumbled something about police. I didn't know what he was going on about. I heard my front door open, and the next minute I heard loud bangs, it was unreal, the noise of it."
Mr Whitwell ran upstairs and saw a police van outside through a window. Cregan returned to the house and asked him for his car keys.
He said: "I was panicking and I just picked up any keys I could get and threw them downstairs. I wanted to ring the police, but only when I knew he was out the way and we were safe.
"I went to the window of my bedroom to see if he was going, and I had seen him pull the pin out of the grenade and throw it back into my garden. I thought to myself, 'oh my God, did that just happen?'
"I thought my house was going to blow up and we just heard this almighty bang and the house was shaking."
'Absolutely petrified'
Cregan had already killed father and son David and Mark Short in two attacks at a pub in Droylsden and at a house in Clayton.
The 30-year-old was the subject of a large hunt, with a £50,000 reward in place for information leading to his arrest and conviction.
In a witness statement read to the jury during Cregan's trial, Mr Whitwell described when Cregan first arrived at his house.
He said: "I was immediately horrified and feared for my life. Dale Cregan was the last person I expected to be at my home."
He added: "I knew Dale Cregan was wanted by the police for murders. He just walked in and said, 'get in'.
"He said to me, 'do as I say', basically saying 'if you don't you will get hurt'."
Cregan then pulled out a grenade and placed it on Mr Whitwell's mantelpiece.
Mr Whitwell said his girlfriend was "absolutely petrified" and only knew Cregan from news reports on television.
Glock on settee
Mr Whitwell said he knew Cregan through a mutual friend, who Cregan ordered to be brought to the house.
After returning with the friend, Mr Whitwell was sent out again by Cregan to get beer, cigarettes and two cigars.
He continued: "Cregan spoke about the incidents he had already been involved in, about how he had done it. He didn't say anything about the Mark Short murder."
The killer then placed his Glock gun on the settee, borrowed Mr Whitwell's mobile and made phone calls.
The following morning, Mr Whitwell left for work at 05:30 GMT, to keep the appearance of normality, but returned early as he was worried about the situation.
Cregan, who was still at the house, asked him to cut his hair. Shortly before 11:00 GMT the officers were killed.
Chief Constable Sir Peter Fahy described it as "darkest day in the history of the Greater Manchester Police force".
Cregan will spend the rest of his life in jail after he was given a whole-life tariff at Preston Crown Court on Thursday.