Greater Manchester magistrates courts deemed 'not fit for purpose'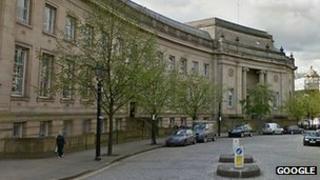 Three Greater Manchester courts have been deemed "not fit for purpose" by the magistrates sitting at them.
The Magistrates Association's (MA) Manchester branch had been asked which courts "might be considered for closure" by chairman John Fassenfelt.
In a letter to members, it said it "would not oppose" the closure of Bolton, Oldham and Stockport courts, which were all "lacking in facilities".
However, the branch's "overriding expression" was to have "no closures".
The request was made in response to Ministry of Justice reforms, which has already seen magistrates courts in Rochdale and Salford closed.
In March, a Ministry of Justice spokesman said the department had "an estate of over 500 court buildings [which] is not now necessary or sustainable, nor is it a reasonable expense for the taxpayer".
"We are closing the worst courts in the estate so we can concentrate our limited resources on the best ones," he said.
'Lacking in facilities'
MA Manchester branch chairman Kathryn Hughes said Mr Fassenfelt had met with Justice Secretary Chris Grayling over "the next tranche of court closures" due to take place in the coming months.
As a result, the Manchester branch were asked to look at which courts they would not oppose closing, using a number of criteria, including diminishing workloads, transport links and the ability of administrative staff to support magistrates.
It concluded it would not oppose the closure of Bolton as "for a long time, because of its design, layout and age, it has been deemed not fit for purpose", nor the closure of Oldham as it "does not meet the criteria regarding facilities and is considered 'tired' by those who use it".
The closure of Stockport would not be opposed as it was "lacking in a number of facilities" and had a "falling workload and lack of courtroom use".
The proposals by the branch suggested that the workloads of the closed courts could be taken on by other court houses, with Bolton's being divided between the "other two court houses in the cluster", Oldham being merged with Tameside and Stockport being merged with Trafford.
The branch covers two Greater Manchester court clusters, with Wigan & Leigh, Bury & Rochdale and Bolton in one and Oldham, Tameside, Stockport and Trafford in the other.
The Ministry of Justice's court estate reform programme began in 2010 and has so far seen 85 magistrates courts and 20 county courts closed in England and Wales.