Closing Manchester science museum 'would be criminal'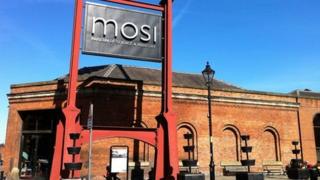 Proposals to close Manchester's science museum would be a criminal, its former chair told a House of Lords debate.
Lib Dem Lord Lee of Trafford said closing Manchester Museum of Science and Industry (MOSI) was unthinkable.
Government Culture spokesman Lord Gardiner said any closure decision would be premature by the museum's owners Science Museums Group (SMG).
SMG has said one of its three museums in the North of England could close due to is weak financial position.
Manchester's Museum of Science and Industry (MOSI) , Bradford's National Media Museum and the National Railway Museum in York could close, according to SMG.
Lord Lee, a former North West MP, told the Lords: "Given that the Government is committed to promoting tourism in the regions, as well as careers in science and engineering, isn't it incomprehensible that the Science Museums Group is faced with a possible further 10% funding cut on top of the already 25% spending cut, thus publicly having to state that it might have to close one of its three regional museums?"
'Premature evaluation'
The former chair of MOSI added: "MOSI attracts 700,000 visitors a year of all ages who come to see the museum of the first industrial city, the first baby computer and the first passenger railway station in Manchester.
"Wouldn't it be bordering on the criminal, if there was any question of contraction or closure?"
Lord Gardiner told peers: "The spending review process for 2015-16 has not reached its conclusion and it would therefore be premature, indeed impossible, for a considered decision by the Science Museum Group to be made until after that process is complete."
He said he was sure that his ministerial colleagues were "absolutely clear about the contribution the museums make to the tourism market".
On Tuesday the Culture, Media and Sport Select Committee announced an inquiry into the closure threat.
SMG runs the Science Museum in London as well as the threatened museums.
Its financial review for 2011-12 showed about 62% of its income was provided by funding from the Department for Culture, Media and Sport, and 21% from commercial activities. Other income included grants, legacies and donations.