University Hospital of South Manchester Trust publishes consultant data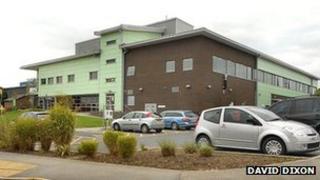 Patients at a Manchester hospital are to become the first in the country to be able to pick their consultant based on their previous results.
Data for all of University Hospital of South Manchester Trust's (UHSM) consultants will be put online by December.
It will allow people to make "informed choices", a spokeswoman said.
Cardiac surgeon Ben Bridgewater, who helped create the new system, said most doctors "welcomed transparency".
The data, which will show consultants' results in relation to national standards, as well as what patients under their care have said about them, will be subject to "up to the minute" changes, the spokeswoman said.
It will begin with the details of cardiologists and cardiothoracic surgeons being made available, with all 250 of the trust's consultants being comparable by the end of the year.
'Right to know'
Mr Bridgewater said it would help assess doctors in "real time" and allow "weaknesses to be improved so that we can give our patients the best possible service and outcome".
"After all, at the end of the day it's our names above the bed," he said.
The spokeswoman said if the data led a majority of patients to choose the same consultant, "a tiered system will be adopted where waiting times are traded off against consultant availability".
"Patients may have to choose their next option if the waiting times are unacceptable for their first choice of consultant," she said.
The trust, which runs Wythenshawe Hospital and Withington Community Hospital, worked with not-for-profit research organisation Picker Institute Europe to develop the system.
The institute's chairman Sir Donald Irvine said it would make "information on performance as accessible to the public as [it is] to professions".
"People have a right to know how good their doctors are - and reviews of performance should take account of the views and experience of other patients," he said.
'Unnecessary anxiety'
The chair of the British Medical Association's Consultants Committee, Dr Paul Flynn, said it supported giving patients "meaningful information" but added that "publishing data for individual consultants is complex".
He said higher risk cases could result in consultants having raised mortality rates while some patients had multiple health problems which could increase "the likelihood of complications".
He added that "different specialties have very different ways of working" which could lead to varying results.
He said: "Whereas there are already robust ways of comparing performance in specialties such as cardiothoracic surgery, in other areas it is much harder to gather data that will be meaningful to patients.
"It is critical that any information provided is accurate and in context - if not, it will be misleading and cause unnecessary anxiety to patients."