Rochdale's St Edmund's Church reopens after repairs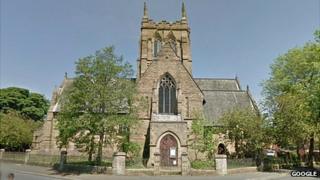 A Greater Manchester church named as was one of Britain's most at risk structures has reopened following restoration work.
The Grade I listed St Edmund's Church, Rochdale, was named as one of the UK's most endangered buildings by campaign group The Victorian Society in 2009.
The Churches Conservation Trust has since spent £120,000 on repair work.
The trust's Robert Milton said he wanted locals to "get involved with bringing the building back to life".
He said it was a "fantastic" Victorian gothic church, which was important as it had been built "as an expression of industrialist, banker and freemason Albert Hudson Royd's elite identity and status".
The building opened in 1873 and features Masonic symbolism and iconography both on its interior and exterior.
The repairs to the church have included a new roof being built on the bell tower and masonry and iron railings repaired outside.
The work is the first part of two phases and the trust now hopes to raise almost £300,000 to complete repairs needed inside the building.
These would include the restoration of the church organ and work on the lighting.