Manchester Debenhams boy's rapists jailed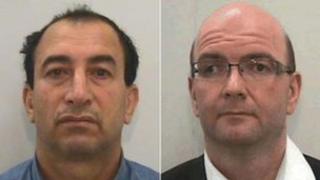 Two men have been jailed for raping a 14-year-old boy in the toilets of a central Manchester department store.
Abdelkader El-Janabi, 55, and Alex Wilson-Fletcher, 42, attacked the boy last June after approaching him in the Arndale Centre on a busy Saturday.
The men marched him to Debenhams, where the "sustained attack" took place. They were each jailed for 15 years.
Manchester Crown Court heard El-Janabi was a former intelligence officer in Saddam Hussein's Iraqi regime.
The court heard the boy was told: "Come with us. Do what we say. If you try to run we'll get you."
'Panic attacks'
El-Janabi, of Artillery Court, Ardwick, knew the Debenhams toilets well and had been caught loitering there in the past by shop staff who had ejected him, the jury was told.
The court heard El-Janabi was the one who physically raped the teenager, but Wilson-Fletcher, of Oldham Street, Manchester, was convicted on the basis he took part in a joint-enterprise.
Judge Michael Leeming QC told Wilson-Fletcher he was "at least a lookout" and had encouraged the other defendant.
The boy was terrified the pair would follow him once he broke free from them and he walked six and a half miles to a friend's house.
El-Janabi and Wilson-Fletcher, a law firm worker, were tracked down after CCTV images were circulated around the UK by police.
Judge Leeming QC, sentencing, told them: "In all probability, what you did to him in his formative years will stay with him.
"Neither of you thought of that at the time. You were more concerned with your own sexual gratification."
He said the boy, who is now 15, suffers from depression and panic attacks and has difficulty sleeping.
'Shock and disgust'
Neither of the defendants has any previous convictions and the judge described them as "mature, intelligent men".
He said El-Janabi had been an intelligence officer in Saddam's regime but was now a British citizen.
The pair were convicted by a jury of two counts of rape and two counts of sexual assault, following a nine-day trial in April.
The court heard both men continue to claim they are innocent. Judge Leeming said El-Janabi had not shown "any remorse, empathy or insight".
Speaking after the sentencing, Supt Stuart Ellison, from Greater Manchester Police, said the crime had "quite rightly shocked the community".
He said: "Everyone felt a sense of shock and disgust when we publicised this case and we still share those feelings.
"However, it is important that people understand that this was an isolated incident and we continue to reassure the city centre community that there was no wider threat to the young people who visit or work in Manchester city centre."