Row over Bolton Wanderers' QuickQuid sponsorship deal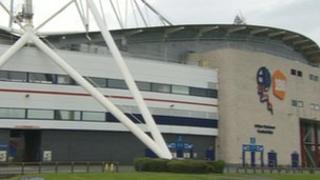 Bolton Wanderers Football Club have announced their new principal sponsor will be pay-day loan company QuickQuid.
The QuickQuid logo will feature on the club's new kits and training wear after Bolton signed a two-year contract.
The club said they were excited about the deal and the firm's commitment to invest in community projects.
Bolton West MP Julie Hilling described it a "sad day" for the club and called on bosses to reconsider associating with "such a company".
She said the industry "exploits vulnerable people who need ready money".
Earlier this month the industry was criticised by regulator the Office of Fair Trading for "widespread irresponsible lending" and charity Citizens Advice for being "out of control".
'Disgusting decision'
Ms Hilling said: "I think accepting a sponsorship deal legitimises these companies in a way that's unacceptable."
Comments by fans on the club's Facebook page included "embarrassed to be a Wanderer", "disgusting decision" and calls to boycott buying the shirts.
A protest against the decision is due to be held outside Bolton town hall at 17:00 BST on Thursday.
The new sponsor replaces online bookmakers 118BET, whose deal expires next month.
The club said QuickQuid has also made a commitment to invest in its community initiatives and "bring some real fun to matchdays".
Chairman Phil Gartside said: "Their energy and enthusiasm to help develop initiatives in collaboration with the Community Trust, and to support education and other sporting opportunities in and around Bolton has been extremely refreshing."
Greg Hohnstein, of QuickQuid, said: "We are excited to be part of a strong partnership as it develops over this period to help bring success on the pitch and positive results and opportunities in the wider community."
The Consumer Finance Association, which represents lenders including QuickQuid, said: "Payday loans are a positive choice for people from all walks of life as they meet the needs of consumers in the post credit crunch era.
"They are an extremely flexible and simple way of borrowing small sums of money without a long-term commitment. However not all payday lenders are the same. Responsible lenders meet high standards and are fully accountable."