Daytime takeaway food sales could be banned near Salford schools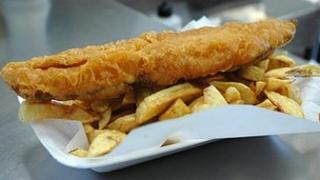 Takeaways near schools in Salford could be banned from selling "hot food over the counter" before 17:00 to encourage children to eat healthily.
The ban would affect new outlets opened within 400m (1,300ft) of a school.
Data released by the National Child Measurement Programme in 2012 showed 35% of 10 and 11-year-olds in Salford were overweight or obese.
Councillor Margaret Morris said the changes would ensure new outlets do not have "a negative impact on the city".
The city council has proposed the ban.
Mrs Morris said that while planners "cannot control the food that is sold", the council would encourage new takeaways to "offer well promoted healthy alternatives, so people can have an informed choice about the food they eat".
She added "public health and helping to reduce obesity levels" was a "top priority" for the council.
"Takeaways create jobs and provide a service but these ideas are to make sure that they are opening in the right places."
The proposals - which could also limit the opening hours of businesses in "areas with problems of crime" -are open to public consultation until 5 July.