Woolwich attack: Service for Drummer Lee Rigby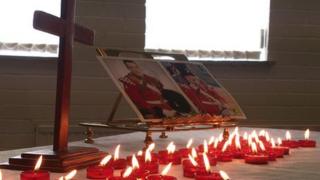 A prayer service for Drummer Lee Rigby, the soldier killed by two assailants in south-east London on Wednesday, has taken place in Greater Manchester.
The 25-year-old, from Middleton, had been in the 2nd Battalion Royal Regiment of Fusiliers since 2006.
The prayer service saw people from the Langley estate gather in All Saints and Martyrs' Burnside Community Centre.
Local MP Jim Dobbin said Drummer Rigby's death had "absolutely traumatised" people on the estate.
The Reverend Philip Miller, who led the service, said it had been a chance to "support the Rigby family".
"Obviously, it is incredibly hard for them but these lovely people need to know that they are supported [by the community]."
He said it was important for "everybody to respect the family's privacy".
People who attended the service, which included prayers and readings, lit candles in memory of Drummer Rigby.
Floral tributes have been left in the garden of the Rigby family's home on the estate, where the soldier grew up.
'Pay respects'
Mr Dobbin, the MP for Heywood and Middleton, said the area was the "kind of estate [where] everyone knows each other".
"The family and local people here will get all the respect and support we can offer," he said.
Mal McCall, who chairs a local residents' association, said the estate would "rally together, support the family and do what we can".
Christine Abbott, who manages the Demesne Community Centre in Langley, said she wanted people to "come to pay respects to Lee's family".
"When the press and everyone has gone from the estate, Langley will still be here for his mum and dad and his family," she said.
Flag tributes
A book of condolence in memory of Drummer Rigby has been opened at Middleton Arena and flags on council buildings across Rochdale have been flown at half-mast in tribute to him.
Middleton councillor Peter Williams, who signed the book, said the 25-year-old had been a "popular and talented young man".
"Words can't express how deeply people have a feeling of community with the family and want to give their support," he said.
The flag at Bury Council has also been lowered to half-mast and a book of condolence has been opened at the town's Fusilier Museum.
Council leader Mike Connolly said Drummer Rigby's death had "left all our communities, of whatever faith, in shock and disbelief that such violence could take place".
"Our thoughts and prayers go out to the family of Lee Rigby and his fellow soldiers at this most difficult of times," he said.