Drummer Lee Rigby: Family's 'hearts ripped apart'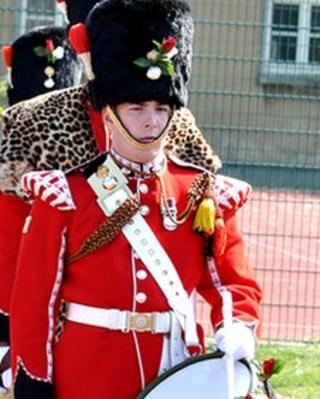 Drummer Lee Rigby, the soldier killed by two assailants in south-east London on Wednesday, had wanted to be in the Army since he was a little boy, his family has said.
The 25-year-old, from Middleton, Greater Manchester, had been in the 2nd Battalion Royal Regiment of Fusiliers since 2006.
A life-long Manchester United fan, he was born in Crumpsall, Manchester and had a two-year-old son called Jack.
His wife Rebecca, whom he married in 2007 when he was based at Catterick Garrison, paid tribute to him at a news conference on Friday.
"I just want to say that I love Lee, I always will and I am proud to be his wife," she said.
"He was due to come home this weekend so we could continue our future together as a family.
"He was a devoted father to Jack and we both miss him terribly."
Reading a statement on behalf of the family his stepfather Ian said: "Our hearts have been ripped apart and everyone is struggling to cope with this tragedy."
He said Drummer Rigby's dream had been to join the army when he was growing up.
'Goodnight mam'
And he read the last text message the soldier sent to his mother: "Goodnight mam hope you had a fantastic day today because you are the most fantastic one in a million mum that anyone could ever wish for, thank you for supporting me all these years, you're not just my mum, you're my best friend. Good night I love you loads."
Drummer Rigby was selected to be a member of the Corps of Drums and was posted to the Second Fusiliers Regiment.
His first posting was as a machine gunner in Cyprus. In 2008 he returned to the UK to Hounslow, west London, where he guarded the Royal Palaces.
In April 2009 he was deployed for the first time to Helmand province, Afghanistan, where he served as a member of the Fire Support Group in Patrol Base Woqab.
On returning from deployment he completed a tour of duty in Germany before taking up a recruiting post in London in 2011, where he also assisted with duties at Regimental Headquarters in the Tower of London.
'Huge smile'
The Second Fusiliers, based in Cyprus and London, have served in every major campaign dating back to 1674.
Sgt Maj Ned Miller, of the Second Fusiliers, said: "He was one of the Battalion's great characters - always smiling and always ready to brighten the mood with his fellow Fusiliers.
"He was an excellent drummer and well respected within the Drums platoon. He was easily identified whilst on parade by the huge smile on his face and how proud he was to be a member of the Drums."
"He would always stop for a chat just to tell me Manchester United would win the league again. My thoughts are with his family and they will always be part of the Fusilier family. Once a Fusilier, always a Fusilier."
Sgt Barry Ward, Drum Major Second Fusiliers, said: "Drummer Rigby was a loving father, with a very bubbly character."
Neighbours on the Langley Estate, where Drummer Rigby grew up, spoke of their "shock" and "disbelief" at his death and talked of a "wonderful lad".