Metrolink extension to East Didsbury opens three months early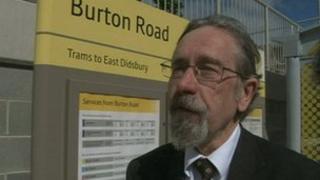 An extension to the Metrolink system in Greater Manchester has opened to passengers three months early.
The 2.7-mile (4.4km) expansion of the South Manchester line links the city centre with East Didsbury.
Five new stops have been built: at Withington, Burton Road, West Didsbury, Didsbury Village and East Didsbury.
Transport for Greater Manchester Committee chair Andrew Fender said he thought the line would become the "best used" on the network.
The Metrolink line, which runs along a disused railway track, terminates in East Didsbury where there is a park-and-ride area for 300 cars.
Mr Fender said the line had "great potential" and it was a "big bonus that it's three months early".
"I live locally and there is a real buzz of anticipation amongst the communities along the line - people are really pleased to see it come into operation," he said.