Manchester Cathedral sells fossils to raise money for heating system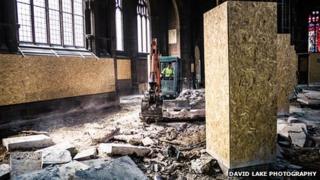 Manchester Cathedral is selling fossils found in its stone floor to raise money towards a new £2.3m heating system.
The cathedral, which is closed while the new heating is installed, is selling the fossils along with other tiles raised from the floor.
The slabs, which were cut from Peak District limestone, contain fossils of crinoids or sea lilies.
A spokeswoman said the cathedral "do not expect to make a lot of money" from the sale.
Director of fundraising and development Anthony O'Connor said the cathedral had "received a lot of expressions of interest from members of the congregation and visitors asking about the current flooring and what will happen to it".
He said as a result the decision had been made to sell "a percentage of the tiles" and the limestone flags.
He added the floor tiles would be "cleaned and polished" at a social enterprise in Skelmersdale before being sold.
The cathedral closed at Easter to allow under floor heating to be installed and is due to reopen in time for Christmas.
A temporary wooden cathedral has been opened alongside the stone building to service the congregation while the work is carried out.