Killer of Fusilier David Lee Collins in Cyprus jailed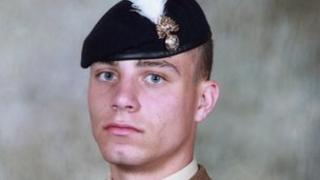 A man who admitted stabbing a British soldier outside a Cyprus nightclub has been jailed for eight years.
Mohammed Abdulkadir Osman, 20, from London, admitted manslaughter at a court in Larnaca last month.
Fusilier David Lee Collins, 18, from Manchester, was stabbed outside the club in Ayia Napa in November 2012.
Charges against two other teenagers, who were both 17 at the time of the stabbing, were dropped.
Fusilier Collins, from the 2nd Battalion, Royal Regiment of Fusiliers, was stationed at a base in the Dhekelia area of the island.
He was off duty with three other soldiers when they became involved in a brawl with three British holidaymakers in the early hours of the morning.
The stabbing happened the day before he was due to fly out to Afghanistan.
Ministry of Defence spokeswoman Connie Pierce said the attack took place in an area of the eastern Mediterranean island that British soldiers were told to avoid because of previous incidents.
Leniency plea
Fusilier Collins's mother and her sister - along with members of his regiment - were in court to hear the sentencing.
Manslaughter carries a life prison term in Cyprus but Osman's defence lawyer argued successfully for leniency, saying there was no premeditation and his client was provoked during a drunken row.
Osman had changed his original not guilty plea and "accepted his guilt for stabbing the soldier".
He has since apologised to the soldier's family and fully co-operated with investigators.
The fracas is believed to have been ignited by taunting related to Manchester-London rivalry.