Manchester unveils 'Dutch-style' cycle lane plans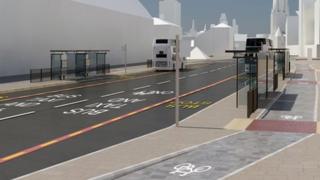 Buses and cyclists could get dedicated priority lanes to make commuter routes across Manchester quicker and safer as part of a £54m scheme.
The lanes would make areas of Oxford Road reserved for buses, bikes, taxis and emergency vehicles only.
Cars would also be banned from parts of Portland Street and Princess Street to create more reliable, punctual, bus routes, councillors said.
Cyclists would enjoy "Dutch-style" segregated lanes under the plans.
Residents and businesses will be asked for their say on the proposals by Transport for Greater Manchester (TfGM) and Manchester City Council between 22 May and 26 June.
'European-style experience'
Councillor Andrew Fender, chair of the TfGM committee, said: "With traffic levels rising it's crucial that we make sure people can easily get around our city by more sustainable transport - in this case by bus, bike or on foot.
"Giving buses priority will allow operators to introduce services that cross through the city centre free from traffic, without need for passengers to change service.
"Oxford Road is one of the busiest bus routes in Europe and we want it to offer a European-style travel experience, not just for bus passengers, but pedestrians and cyclists."
There will be full access to businesses along the roads, a spokesman said.
As part of the wider scheme, work has already started on redesigning commuter routes from Wigan to the city, and a consultation is underway on changes to routes from Rochdale.
If the Oxford Road plans get the go-ahead it is expected work would be completed by 2015.