Manchester Metrolink extension to East Didsbury to open months early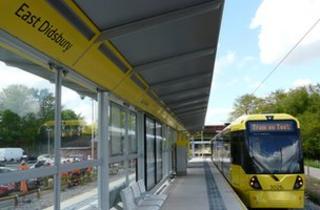 An extension of the Greater Manchester Metrolink tram network is to open three months ahead of schedule, say transport bosses.
The 2.7 mile (4.4km) expansion of the South Manchester line links the city centre with East Didsbury.
Five new stops have been built at Withington, Burton Road, West Didsbury, Didsbury Village and East Didsbury.
Services will begin operating from St Werburgh's Road to East Didsbury on 23 May.
Transport for Greater Manchester (TfGM) said the early completion was a "wonderful achievement".
"It's fantastic to be able to announce the opening of this new line several months earlier than we expected," chairman Andrew Fender said.
The Metrolink line, which runs along a disused railway track, terminates in East Didsbury where there is a park-and-ride area for 300 cars.
Nigel Murphy, Manchester City Council's environment spokesman, said: "Having a well-connected city where people can easily access employment, social and leisure opportunities is absolutely fundamental to Manchester's future success.
"This new line is another important step towards delivering that vision and it will be great to see it up and running."
Trams will run every 12 minutes during peak time with a 15 minute service on Sundays and Bank Holidays.