Blackpool Council seeks to reverse prom revamp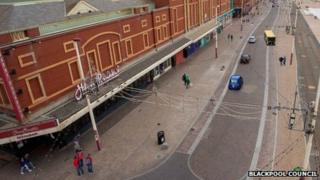 A revamp of Blackpool promenade which took place two years ago could be reversed by the council.
The 600-metre stretch in front of the resort's tower has been blamed for causing congestion and was even branded a risk to blind people.
Councillors have asked residents to consider five options which range in cost from £900,000 to £2.7m.
No work would be scheduled to begin until the end of the Illuminations in November.
The first option would just see repairs carried out on the carriageway as needed and no restoration of the zebra crossing which was removed earlier in the year.
The other four options include variations on replacing the road surface with asphalt, raising the kerbs, the installation of guard rails and the restoration of two lanes of traffic each way.
A Blackpool Council spokesman said depending which option is chosen, the work should take between 15 and 35 weeks with the prom being closed for around four to five weeks.
He said any money spent on changing the road scheme would be taken from other proposed projects in the town including road repairs, residents' parking schemes and improvement to the cycle network.
Claire Smith, president of StayBlackpool which represents hoteliers said: "It is going to be very hard to balance everybody's needs, there is going to be a great deal of compromise needed."
Mrs Smith said part of the problem lay in the fact that the promenade is also a main traffic route in the resort.
In March local MP Paul Maynard asked residents to send him photos of area of notorious traffic congestion in the town including the section near the tower.
Blind people complained following the revamp about the risk caused by a lack of kerbstones.
The consultation ends on 31 May.