Ex-footballer with motor neurone disease in London Marathon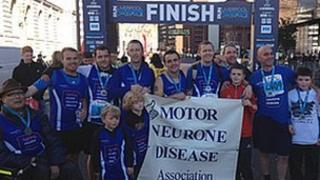 Mark Maddox, 40, is determined to cross the finish line of the London Marathon, despite doctors warning that his chances of finishing are "slim".
Diagnosed with motor neurone disease (MND) in 2010, Mark now finds it difficult to walk and talk.
The ex-Altrincham FC footballer will run the 26-mile race on Sunday - his second marathon in the past year.
He will be joined by friend Tony Whitfield as they raise money for the MND Association.
"I'm nervous and excited," he said. "It's going to take a huge amount of effort to get me round."
Mr Maddox played football for Altrincham FC for 10 years and, after attaining his prestigious UEFA "A" Licence, was planning to become a football coach.
But, after being diagnosed with MND, he was forced to give up his football career - a situation he described as "devastating".
MND is a disease that attacks the nerves in the brain and spinal cord.
It generally leads to weakness and muscle wasting as messages from the brain stop reaching muscles.
'I'm blessed'
Sarah Milner, secretary of the Merseyside branch of the MND Association lost her brother to MND.
"It is a horrible disease," she said.
"Mark is an inspiration to all of us and it's a pleasure to be involved with what he does."
For Mark, the hardest part of having the disease is the drain it puts on his emotions.
"I miss the things I used to take for granted the most, like playing with my kids," he said.
Mark has been training by swimming twice a week, a form of exercise which he said he finds "easier than running".
He completed the Liverpool Marathon, in October 2012 and approaches the London event in a positive mood.
"I'm confident that I'll finish," he said. "When the crowd get behind me I know I'll make it.
"I want to raise awareness for people with MND who can't take part."
Mark's wife, Jayne, and three children, Sonny, 12, Vinny, seven, and Bo, four, will be in London to cheer him on and he's had lots of support from friends who have helped with his fundraising.
"I'm unlucky to have MND but very lucky to have the friends and family I have," Mark said.
"I'm blessed - they help me and keep me positive."