Baby died in Manchester hospital after birth went unnoticed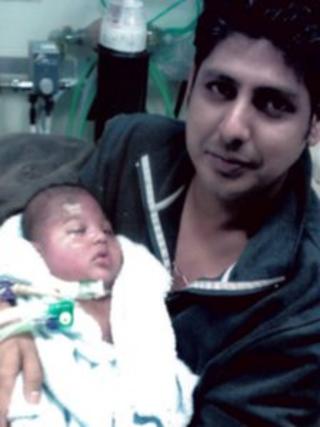 A baby was starved of oxygen and died after midwives failed to notice he had been born under bed sheets, an inquest heard.
Maninder Singh was born at St Mary's Hospital in Manchester in 2008, while his mother was numb from an epidural.
The delay in staff noticing his birth and resuscitating him meant his already poor condition worsened and he died six months later, a coroner found.
Father Kamaljeet said the hospital's apology was "too little, too late".
An internal investigation, which identified several failings in the care of Maninder and mother Geeta, concluded in 2009 but Mr Singh did not receive a written apology until Sunday, his lawyers said.
'Horrific circumstances'
Following a three-day inquest, Manchester Coroner Nigel Meadows recorded a narrative verdict in which he highlighted eight specific failings which led to the baby's death.
Mrs Singh, of Urmston, Greater Manchester, had been receiving specialist support during her pregnancy due to numerous health conditions, including diabetes and anaemia, and was induced at 34 weeks.
The inquest heard that midwives did not regularly check her labour progress and after bringing a foetal scalp electrode to monitor the baby they found he had already been born and starved of oxygen.
He was later diagnosed with a serious brain injury and spent the remainder of his life in intensive care.
Mrs Singh died in 2010 from complications following the birth of the couple's second child.
Mr Singh said: "This has been an extremely difficult four years for my family, who lost a much-loved son under horrific circumstances.
"I am pleased that we finally have justice, and that the trust has admitted that more could have been done to save Maninder, but it has been four years and this apology is too little, too late.
"My wife died never knowing what happened and why, and never knowing that anyone was sorry for our loss."
Kathryn Murphy, head of nursing and midwifery at the hospital, expressed "profound regret" and said a number of changes have been made since Maninder's death.
She added: "We have recognised there were failings surrounding the care of Maninder Singh in 2008 and we accept that this fell below the level of care we normally provide."