'Thunderbirds rescue' for Cetti's warbler from Wigan Flashes fire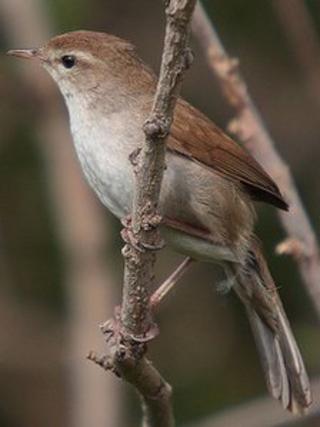 The rescue of a rare bird from a "ferociously burning" reed bed has been described as being "like a scene from Thunderbirds" by a wildlife trust.
The Cetti's warbler was saved from the blaze at Wigan Flashes on Tuesday.
Lancashire Wildlife Trust's Mark Champion said staff were not aware the bird was in the area until its song "exploded from the bush".
He said it was "good news" the officers had controlled the fire before it could reach the bird's nest.
According to the RSPB, around 650 Cetti's warblers are thought to be resident in the UK, with the majority nesting along the south coasts of England and Wales.
Mr Champion said that while staff knew the bird had "used the reed beds and scrub last year, we had not heard it this year".
"It was a total a surprise that whilst we were assisting the fire brigade at the scene, the Cetti's song exploded from the bush less than two metres away," he said.
"It was like a scene from Thunderbirds with the Cetti's being saved at the last moment."
Crew manager Simon Connor said it had been a "very hot job [as] reed beds burn quite well".
"The fire was quite a way from where we were actually called to," he said.
"We made our way to it on foot and when we got there it was burning ferociously - we started to tackle it with beaters [and] it took us quite a bit to get under control.
"We thought it was just another grass fire, so we were really pleased when we found out we had saved the bird."
A spokesman for Greater Manchester Fire Service said officers were investigating what had started the fire.