Manchester Victoria station's restoration works start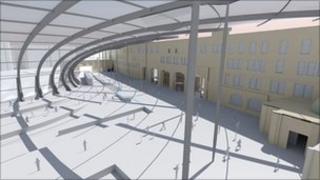 Work has started on a £44m restoration of Manchester's Victoria Station.
The project includes restoration of the station's period features, including the glazed canopy at the front of the building, which was built in 1844.
Northern Rail said the scheme would "future-proof" the station, ahead of the electrification of the line to Liverpool.
A line connecting the Grade II-listed station with Manchester Piccadilly has also been approved.
It is part of a wider plan to improve rail services in Manchester called the Northern Hub, which would see Victoria being transformed into a major interchange.
The full Northern Hub improvements would also mean four fast trains every hour between Liverpool and Manchester and six between Manchester and Leeds.
Network Rail area director Lee Wasnidge said it would provide a fitting gate to the city.
Other improvements include a new roof, improved concourse area, refurbishment of the war memorial, glass dome and the wall map, new lighting and glazed entrances.
The works are expected to be completed by the end of 2014.