Manchester City's Samir Nasri banned from driving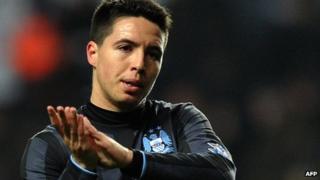 Manchester City footballer Samir Nasri has been banned from driving after his car was clocked speeding three times.
Nasri was originally convicted in June but this was overturned after he signed a declaration saying he was unaware his Mercedes had been caught on camera.
Police then began a fresh investigation and on Tuesday the France international admitted three offences of failing to provide the identity of a driver.
Tameside magistrates fined Nasri, 25, £2,100 and gave him a six-month ban.
Nasri's car was caught on camera travelling above the speed limit three times in 2011.
On Wednesday, Nasri's City team-mate Carlos Tevez was ordered to carry out 250 hours of community service after he admitted driving while banned.