Protest is held in Salford over NHS reforms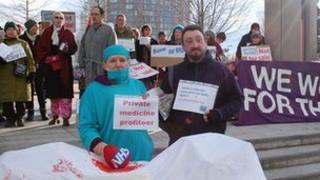 About 50 people have held a protest in Salford over the government's NHS reforms.
The changes, which came into force on Tuesday, mean GPs will choose how to spend health budgets and private companies will have a greater role in providing care.
The government said it will enable the NHS to improve.
Campaigners Keep Our NHS Public, which organised the protest at Mediacity UK, said it could lead to "disaster".
Hugh Caffrey, of Greater Manchester's Keep Our NHS Public, said: "Every public service that's been privatised has got worse as a result.
"We think handing over the NHS will mean more disasters and mean it being run for profit not care of patients."
Health Minister Anna Soubry said previously that the reforms will enable the NHS to "improve, work smarter and, importantly, build an NHS that delivers high quality, compassionate care for patients".