Jade Anderson death: Urgent call to reform dog laws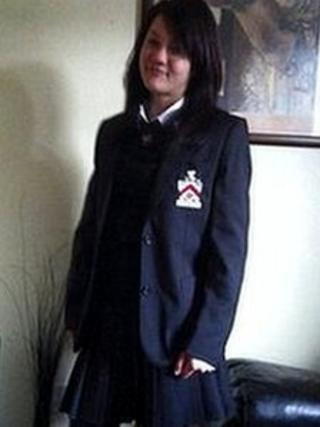 Urgent reform of dog control laws is needed, an MP who chairs the Commons environment select committee has said.
Anne McIntosh, chair of the Environment, Food and Rural Affairs Committee, was speaking in the wake of the death of Jade Anderson, 14.
She was attacked by "out of control" dogs at a house in Greater Manchester.
The Department for Environment, Food and Rural Affairs (Defra) said it was looking to introduce new legislation as quickly as possible.
'Law change needed'
Five children and an adult have been killed by dogs on private property since 2007, and Defra estimates about 210,000 people are attacked by dogs in England every year.
Miss McIntosh said it was too early to say what had happened in the case of Jade Anderson, but said the law in England needed to cover the control of dogs on private property.
The Conservative MP said it should be an offence to train a dog to behave aggressively.
"It's not so much the breed of the dog as the way that that particular animal is taught to behave," she said.
"And whereas the law in Scotland and Northern Ireland would permit this offence to feel the full effects of the law - because it took place in private property - we're not quite there yet in English law, and I do urge the government to come forward with these proposals as a matter now of utmost urgency."
'Too many tragedies'
Jade's MP Julie Hilling, who lives near to the scene of the incident, said her party, Labour, had been pressing for new legislation since a government consultation on dangerous dogs in 2010.
Ms Hilling said: "There have been too many tragedies with dogs, and we've got to take some action."
Jade Anderson was found alone with five of the animals at a house she was visiting in Chaucer Grove, Atherton, Wigan, on Tuesday afternoon.
Police said armed officers destroyed four dogs and contained a fifth.
Four dogs, believed to be two bull mastiffs and two Staffordshire bull terriers, were shot by police marksmen.
A Defra spokesperson said: "Dog owners must keep their dogs under control. Police and local authorities already have powers to deal with irresponsible dog owners and dangerous dogs.
"Last month the Government announced that the law is being changed to cover attacks on private property."