Atiya Anjum-Wilkinson: Father in court bid for access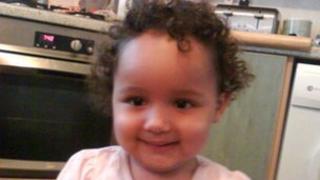 A father who was jailed after abducting his daughter and taking her to Pakistan for three years has appeared in court to make a bid for access to the child.
Razwan Ali Anjum, of Ashton-under-Lyne, Greater Manchester, took Atiya Anjum-Wilkinson to Pakistan in November 2009 and was found by police last December.
Mr Anjum was jailed after refusing to reveal Atiya's whereabouts but was released on 1 March.
He appeared at Liverpool's Civil and Family Court in Liverpool.
Bid challenged
The case was adjourned until 8 July to allow psychological assessments of the child to take place.
The court heard that Mr Anjum is trying to get legal aid before the next hearing, which will take place at Chester Crown Court.
Mr Anjum told Atiya's mother, Gemma Wilkinson, that he was taking her on a day trip to Southport when she was three years old, but in fact she was taken to Pakistan to live with his family.
Atiya was found on Christmas Eve then flown back to the UK and reunited with her mother.
Ms Wilkinson, 34, is challenging the application for access but did not appear at the hearing.
She and Atiya now live at a secret address.
Mr Anjum was jailed in 2010 after a High Court judge ruled he was in contempt of court because he disobeyed orders to return Atiya or say where she was.
He was given additional jail terms after repeatedly refusing to comply with orders.