Iron Maiden create real ale with Stockport brewery Robinsons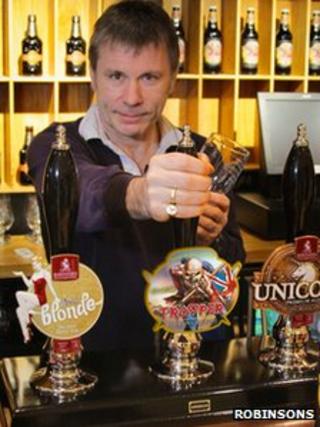 Heavy metal band Iron Maiden have teamed up with a Greater Manchester brewery to create their own real ale.
Trooper, named after the band's 1983 song of the same name, has been created by Stockport brewer Robinsons with help from singer Bruce Dickinson.
He said he thought he had "died and gone to heaven when we were asked to create our own beer".
The brewery previously created a beer called Build A Rocket Boys! with Mercury Prize winners Elbow.
Managing director Oliver Robinson said the collaboration with the band was an ideal match because of the "powerful combination" of music and beer.
'Lifelong fan'
Mr Dickinson said he was a "lifelong fan of traditional English ale [so] I thought I'd died and gone to heaven when we were asked to create our own beer".
He said creating the beer had made him "very nervous [as] Robinsons are the only people I have had to audition for in 30 years".
Iron Maiden are one of Britain's most successful bands and have sold around 90 million albums worldwide.
They have produced 15 studio albums and played more than 2,000 live shows in 58 countries.
The band are due to headline the Download festival in Donington Park, Leicestershire in June.
As well as singing his band's heavy metal anthems, Bruce Dickinson is also a qualified pilot.