Rochdale extension to Metrolink tram network opens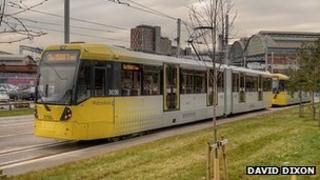 An extension of Greater Manchester's Metrolink tram network which links Rochdale with Manchester has opened.
The 4.6 mile (7.4km) expansion of the Oldham and Shaw line terminates at Rochdale Railway Station.
The service has seen the creation of new stops at Newhey, Milnrow, Kingsway Business Park and Newbold​.
Transport for Greater Manchester Committee chair Andrew Fender said it would open "new opportunities for communities along the line".
"People in Rochdale will have the best of both worlds: inter-regional and local rail services, and local tram services," he said.
"Rochdale is undergoing great change and Metrolink's arrival is a great symbol of a bright future."
The line was due to open in 2012, but was delayed due to problems with a tram management system.
It is part of a £1bn expansion to the network, which is due to be completed by 2016 and will see new lines to Didsbury, Manchester Airport and Ashton-under-Lyne.
The leader of Rochdale Council, Colin Lambert, said the tram's arrival in the town was "a major boost to the local economy".
"The launch of services from Rochdale will benefit residents and businesses in the area, as well as making our borough more accessible to visitors, investors and developers," he said.
A further extension from the railway station to Rochdale town centre is due to be completed in 2014.