Data fears over septicaemia deaths at Royal Bolton Hospital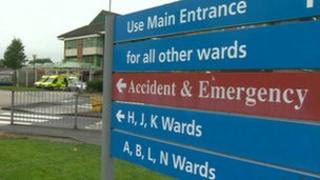 An investigation is under way into unusually high numbers of septicaemia deaths at the Royal Bolton Hospital.
Bolton Clinical Commissioning Group (CCG) confirmed the trust recorded 800 cases from March 2011 to April 2012.
The figure is four times higher than a trust similar in size would expect, according to Bolton CCG.
Bolton NHS Trust said acting chief executive Dr Jackie Bene had stepped aside after initial findings revealed "potential discrepancies" in data.
The BBC understands the investigation is looking at allegations that records were altered to make the hospital's mortality rates look better.
Dr Bene, a former medical director, oversaw recording of deaths at the hospital.
Bolton CCG commissioned independent health watchdog Dr Foster to investigate.
Bolton NHS Foundation Trust said it received information about an initial audit about potential discrepancies in the way the trust coded mortality information in 50 cases between March 2011 and April 2012.
In a statement, it said: "The audit has not reported, but we have decided to act on this information because we want to rule out any serious issues as soon as possible.
"As a precaution, the cases will be reviewed by clinical staff and if any concerns arise with the care provided in them we will directly contact their families."
It added: "We do not believe there are any clinical concerns regarding the care of patients, but rather there are questions that need answering about how the trust reports information about their care for administrative and financial purposes".
The trust said it will be bringing in an independent team to look at current coding practices, and will be working with Bolton CCG to jointly review the information.
A Dr Foster spokesman said: "The accurate recording of data is essential in allowing us to better understand the quality of care being provided by hospitals, as well as ensuring they receive the correct levels of payment for their services.
"We welcome the seriousness with which Bolton CCG is treating the issues raised by the audit."
A final report from the audit is due to be handed over on 6 March. Bolton CCG said the findings will be presented "openly and transparently".