Little Woolden Moss to become nature reserve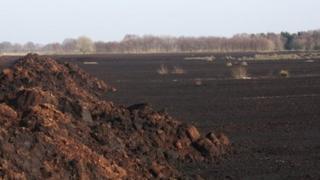 An area of peat-extraction damaged mossland in Salford is being turned into a nature reserve.
Lancashire Wildlife Trust has bought the 100 hectare (247 acre) site at Little Woolden Moss, near Cadishead.
The trust has used grants totalling around £1m from the Heritage Lottery Fund to buy the land and fund the conservation work.
By filling in the ditches, the trust hopes cotton-grass and carpets of sphagnum mosses can be grown.
The mosses store carbon, preventing it from entering the atmosphere and contributing to global warming.
Project Officer Elspeth Ingleby said: "We are filling in the ditch network that is draining away the lifeblood of the mossland - its water.
"Using techniques developed on our other mossland sites, we will divide the site into a number of levelled areas.
"This is a blank canvas and the benefits to biodiversity from this work will be huge."
Little Woolden Moss is part of Chat Moss, a larger area of peat bog land which has been subject to commercial peat extraction for the past 15 years.