Alexandra Park tree felling scaled back following protests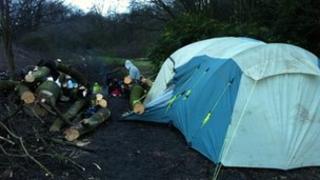 Tree felling at a Manchester park has been scaled back after opposition from local residents and activists.
Earlier this month, work at Alexandra Park, Whalley Range was temporarily halted when a camp was set up and a number of people climbed up the trees.
Manchester City Council said it had "listened carefully to the concerns of the local community".
Four tennis courts will now be built, rather than the proposed six. Thirty three trees will be saved in the park.
The council initially intended to fell about 280 trees as part of a £5.5m project to return the park to the way it is supposed to have looked in Victorian times.
The trees are being removed and replaced by raised flowerbeds as part of the regeneration.
'Peaceful protesters'
Councillor Nigel Murphy said: "The environmental benefits of the park were important to many local residents and so the decision to reduce the number of tennis courts and to retain some of the wooded wetland was made."
Whalley Range resident Jenny Trigg said they wanted to work with the council.
She said: "We are just waiting and hoping that they are going to meet us, because we are peaceful protesters of all ages, we just want to understand what's going on".
More than 4,000 people have signed an online petition opposing the felling of trees in the project, which received £2.2m from the Heritage Lottery Fund.