Eric Pickles: Greater Manchester's 'shoddy' waste deal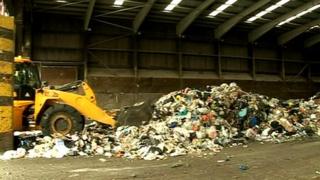 People in Greater Manchester will pay higher council tax due to a "botched and shoddy deal", a cabinet minister has claimed.
Communities Secretary Eric Pickles said council taxes have risen due to a £3.5bn deal by Greater Manchester Waste Disposal Authority (GMWDA).
He claimed councils hid the huge cost of the contract with Viridor-Laing in the small print of their budgets.
But GMWDA said Mr Pickles comments are "factually inaccurate".
Mr Pickles alleged that a badly drafted Private Finance Initiative (PFI) agreement signed by GMWDA - which represents all of the local authorities in Greater Manchester - had pushed up the council tax waste levy.
Not hidden
But Neil Swannick, chairman of GMWDA, said the 25-year contract for the PFI scheme, which included building 40 waste management facilities, was approved in 2009 by Department for the Environment, Food and Rural affairs, the predecessor of the Mr Pickles' department, and the Treasury which allocated £124.5m in PFI credits.
At the end of the 25-year period where Viridor-Laing runs the centres, the ownership reverts to the GMWDA.
The authority had not hidden the fact that for five years there would be large increases in council tax while new waste management facilities were built.
"This is the last year when those hikes are taking place," he said.
The authority, which represents all 10 Greater Manchester councils, also said the contract had saved money.
The council tax levy for waste will be set next week and is expected to rise by 19% in Manchester and by an average of 14% in other Greater Manchester boroughs.
Municipal autocracy
Mr Pickles said the agreement was a, "shoddy deal done by a shadowy unelected body with no-one taking responsibility and local taxpayers left with service cuts and higher taxation.
"This isn't local democracy, this is municipal autocracy," he told the annual conference of the National Local Government Network.
Mr Swannick said the authority was faced with a choice in 2009 of paying around £1 a week per household to build the new waste management centres or risk paying £2 a week per household in government penalties for using landfill sites.
He rebutted Mr Pickles comment that GMWDA was undemocratic saying that this authority was made of elected councillors from 10 local authorities.