Manchester swimming pool closures 'betray Olympic legacy'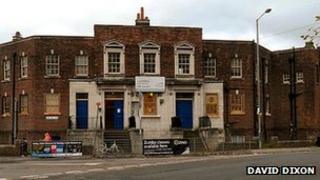 Plans to close swimming pools in Manchester are a "betrayal" of the Olympic legacy, campaigners have claimed.
Manchester City Council is planning to close five swimming baths as part of its proposals to save £80m.
Miles Platting, Broadway, Levenshulme and Withington pools could shut this year, with Chorlton closing in 2015.
The council said it will spend £10m on three new pools and the closures will save maintenance and running costs.
These new pools will be in Beswick, Levenshulme and Chorlton.
But Elinor Rooks, a member of the campaign to save Withington baths, said the historic baths had been modernised and local people were angry at the closure plan.
She said it would be difficult for people to travel to the new centre in Hough End, Chorlton, which is about 1.5 miles (2.4km) away.
"The people who really depend on this baths, - children, pensioners, the disabled - are going to have difficulty with that increased transport," she said.
'Modern replacement'
More than 140 people attended a meeting on Thursday, which had five councillors present, to discuss the plan.
"The overwhelming feeling is that this is a betrayal of the people of Withington and a betrayal of the Olympics legacy to be closing sports facilities," she said.
The Levenshulme pool was threatened with closure in 2011 before a council u-turn.
A council statement said: "Our leisure centre proposals are about providing the best quality, sustainable and easy to access services we can despite severe funding pressures.
"We are investing £10m in a modern replacement facility serving Withington and Chorlton and another in Levenshulme in addition to the new pool which is already on the way for Beswick."
It said the council was trying to avoid "ongoing maintenance and running costs".