Salford train delays: Services resume after fire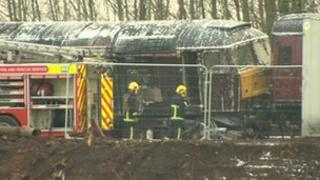 Rail services hit by delays after a train derailed and caught fire in Salford have returned to normal, Northern Rail said.
A rear diesel locomotive of the West Coast Railways train caught fire on Wednesday, blocking one of the busiest routes in and out of Manchester.
The operator warned there may be some residual delays.
Northern Rail's Carolyn Watson said the train had been moved and engineers were repairing the track.
"We have made good progress," she said.
Trains were unable to run between Manchester Oxford Road and Salford Crescent, Manchester Victoria and Earlestown and Bolton and Manchester Piccadilly.
Northern Rail said repairs to the track were completed by about 15:15 GMT and trains started running normally again about half an hour later.
The train derailed near Regent Road as empty carriages were being moved from Ardwick to Carnforth in Lancashire.
Four people on board, including the train's driver and engineer, escaped unhurt.
A spokesman for the Rail Accident Investigation Branch said it had attended the scene and had carried out a preliminary examination.