William Blake 'commercial engravings' found in Manchester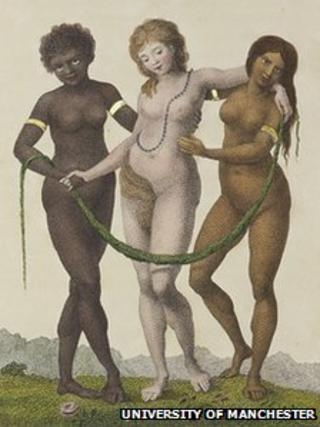 A series of "commercial engravings" by poet and artist William Blake have been discovered by students in Manchester.
The etchings were found during a two-year-long search of the University of Manchester's John Rylands Library.
The students had been carrying out a hunt for the Romantic's work ahead of an exhibition in the city.
A spokesman said the university had suspected work by Blake was "hidden in its collection", but had been "amazed" to find the works.
A visionary poet and illustrator, Blake is regarded by some as one of the greatest contributors to English literature and art but was largely ignored during his lifetime and died in 1827 almost penniless.
Library archivist Stella Halkyard said that because of his obscurity, Blake had also been an engraver and "produced a wide variety of work".
She said students had received "some specialist training in identifying prints before hunting through the collection".
"They found out we actually had a huge number of commercial engravings by Blake."
She added that the reason the works may have been previously overlooked was that "during the 18th and 19th century, engraving was looked down on as an art form, and commercial engraving more so".
The engravings will go on show in February with Blake works held by the Whitworth Art Gallery and Manchester Art Gallery, as well as several more from the University's collections.