Trafford General A&E closure confirmed by NHS Trafford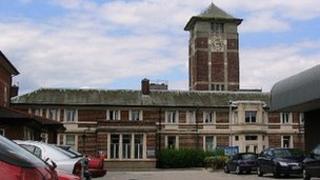 The accident and emergency department is to close at Trafford General Hospital, which is regarded as the birthplace of the NHS.
NHS Trafford has confirmed the closure saying there are low patient numbers and fears over clinical safety.
Doctors say changes are required if the hospital is to survive and too few patients are using the department - the smallest in England.
But campaigners say the changes would put lives at risk.
Jo Harding, campaign coordinator at the Save Trafford General Campaign, said: "When A&E departments close, it places an impact on other hospitals, so we really believe that it will have an impact on patient care."
Under the NHS plans, the A&E unit will close overnight and patients would go to Salford Royal, Manchester Royal Infirmary or Wythenshawe hospitals.
During the day it would be replaced by an urgent care centre, which would be downgraded to a nursing service for minor illnesses and injuries within three years.
Dr George Kissen, the medical director at NHS Trafford, said: "We believe this will actually save lives and make things better.
"Patients will go to the best place for their care."
Trafford General is known as the birthplace of the NHS, as it treated the first ever NHS patient when the health service was inaugurated in 1948.