PC Ian Terry death: Greater Manchester Police admits failing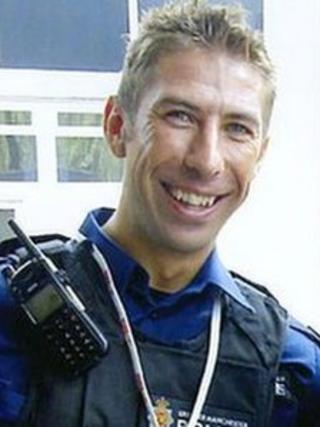 Greater Manchester Police (GMP) has admitted breaching health and safety law over the fatal shooting of an unarmed officer on a training exercise.
Pc Ian Terry 32, was killed in June 2008 during police firearms training at a disused warehouse.
Sir Peter Fahy, Chief Constable of GMP, pleaded guilty on behalf of the force at Liverpool Crown Court.
An inquest held in March 2010 found PC Terry was unlawfully killed. GMP will be sentenced in March.
A Health and Safety Executive (HSE) prosecution was brought after the Crown Prosecution Service (CPS) said there was "insufficient evidence" to bring criminal charges relating to his death.
No body armour
PC Terry's family were present in court as the chief constable admitted a failure of GMP to provide sufficient protection for one of its employees.
The father-of-two from Burnley, Lancashire, was shot as the unit practised in Newton Heath on 9 June, 2008.
PC Terry, who was not wearing body armour, was hit from a distance of about 12in (30.5cm) by a blank round of specialist ammunition not designed to kill.
He was carrying an unloaded handgun while playing the role of a criminal fleeing in a car.
At the inquest into PC Terry's death, the jury ruled that there were failures in the planning, training and safety measures employed during the exercise.
Two GMP firearms officers, who cannot be named for legal reasons, have each denied one count of a breach of Section 7 of the Health and Safety at Work Act.
The section requires employees to take reasonable care for the health and safety of themselves and others.
The officers, a sergeant and a constable, will stand trial on 10 June at Manchester Crown Court.
Sir Peter Fahy, who became chief constable shortly after PC Terry was killed, was told the force will be sentenced on 20 and 21 March at Preston Crown Court.
A HSE spokesman said: "We welcome GMP's guilty plea.
"Ian's death has caused his family considerable suffering and grief, and today marks a significant milestone in securing justice for them and for Ian."