Princess Royal's Bolton gym launch cancelled by fog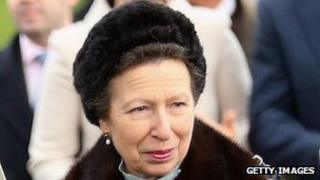 The official opening of a multi-million pound leisure centre in Bolton has been cancelled because the Princess Royal's helicopter could not take off.
Her helicopter was unable to fly from Oxfordshire due to fog.
Princess Anne should have opened Bolton One, the town's new £30m NHS health, leisure and research centre.
She was due to meet ex Bolton Wanderers player Fabrice Muamba and Olympic double gold medallist Jason Kenny and physiotherapy patients in the NHS gym.
Sean Harris, chief executive of Bolton Council, said fog at RAF Brize Norton had prevented the princess from flying.
The new centre combines a gym, swimming pool, medical facilities and also links up with sports science and physiotherapy courses from the University of Bolton.
A protest against 500 planned NHS redundancies in Bolton, intended to coincide with the royal visit to the Royal Bolton Hospital, went ahead despite the cancellation of the princess's trip.