Summit held to tackle child grooming in Greater Manchester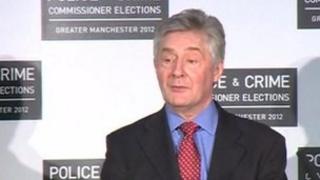 A summit has been held to discuss how to tackle the issue of child sexual exploitation in Greater Manchester.
The meeting, called by police and crime commissioner Tony Lloyd, took place at Greater Manchester Police's Sedgley Park Centre, Prestwich.
Children's services staff from 10 local authorities, political leaders and police chiefs attended.
Nine men were jailed in May 2012 for the grooming of vulnerable girls in the Rochdale area.
'Dark shadow'
Agencies shared information about the work they are doing to combat the issue.
Mr Lloyd, who was elected as PCC in November, said child sexual exploitation was a "hugely complex issue which casts a dark shadow" across the region.
"Complex or not, the bottom line is that no child should be the victim of this kind of horrific abuse, and all agencies that work with children have a responsibility to come together to root it out.
"This summit represents an important first step which I hope will ultimately lead to a co-ordinated, region-wide framework which draws in all the agencies, experts and communities of Greater Manchester to join forces to eradicate this stain on our society."
Rochdale Labour MP Simon Danczuk said grooming was not restricted to any one particular area.
"I do believe that the local council have put a number of steps in place to dramatically improve the situation [in Rochdale], so I think other local authorities that might be shy about coming forward and addressing this issue can learn from Rochdale and actually get their act together.
"I think there's something that can be done to get messages out there to potential victims that they shouldn't be cajoled into this type of abuse."