Fire sweeps through Astoria Hotel in Blackpool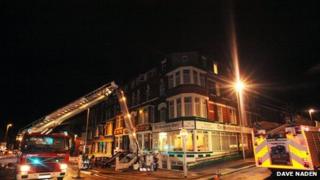 More than 70 firefighters tackled a blaze that has destroyed a hotel in the centre of Blackpool.
The fire was believed to have started in the laundry room at the Astoria Hotel on Albert Road, at about 18:15 GMT on Sunday.
Neighbouring properties were evacuated and Albert Road was closed as firefighters dealt with the blaze.
Lancashire Fire Service said no-one was thought to have been injured, but a dog is believed to have died.
A spokesman said there were concerns over guests trapped inside and a gas cylinder at the top of the five-storey building.
Firefighters are still at the scene damping down the fire.
An investigation by Lancashire Police and Lancashire Fire Service is under way into the cause of the fire.