Missing student Souvik Pal: Father stages Manchester march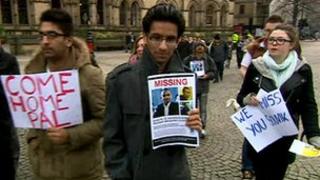 The father of a missing student has been joined by about 50 people on a march in Manchester to highlight his son's disappearance.
Manchester Metropolitan University undergraduate Souvik Pal, 19, went missing from a New Year's Eve party at Trafford's Warehouse Project.
Santanu Pal then met Home Affairs Select Committee chairman Keith Vaz.
Chief Constable Sir Peter Fahy said police would "get to the bottom of what happened" to Souvik.
Mr Pal met Mr Vaz, Labour MP for Leicester East, and Labour's Lucy Powell, Manchester Central MP, at the town hall following the march.
He described the town hall meeting was "very positive".
"Everybody here in Manchester are supporting me - the university, friends of Souvik, the Indian community, so hopefully we will be able to find Souvik quickly," he said.
'Magnificent' response
Mr Vaz, who was contacted by Mr Pal about his son's case, said the public response had been "magnificent".
"I think the police are working extremely hard, there's 14 people on the team looking for him and we will continue to support them," he said.
Sir Peter said the force was "committed" to finding Souvik.
"The majority of police officers are parents themselves, and they too would want to know that the police were doing everything that they could."
Police appealed for information on the whereabouts of the student at the Manchester United v Liverpool match on Sunday.
The 19-year-old student worked part-time selling refreshments at Manchester United and was last seen less than a mile from the Old Trafford ground.
He is described as 5ft 7in (1.7m) tall, of slim build and with an Indian accent. He has a scar on the right side of his forehead.
When last seen, he was wearing a pale denim long-sleeved shirt with a collar, grey chino trousers and navy blue leather boots.